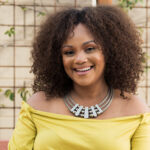 Isha Cogborn is a transformational communicator gifted to connect with the heads and hearts of everyone from corporate leaders to college students. She's the founder and CEO of Epiphany Institute, a professional development company with clients that include Fortune 500 companies, professional organizations and nonprofits. Isha is a crowd favorite at conferences, commencements and community events, frequently recruited to emcee due to her warm personality, high energy and ability connect the dots between speakers.
As a fourth grader, Isha realized she wanted to be a professional speaker after hearing the legendary Les Brown at the start of his speaking career. She was amazed by the power of the platform to motivate and inspire, and wanted to make others feel as unstoppable as she did that day.
She realized that dream and started booking unpaid speaking engagements in college. With two decades of speaking, strategic communications and media relations experience under her belt, Isha is committed to helping subject-matter experts, leaders and entrepreneurs build platforms and personal brands to increase their impact in the world.
Isha is the author and publisher of 5 Rules to Win Being You and On Purpose: Practical Strategies to Live Your Best Life, and On Purpose: 12 Strategies to Reclaim Your Power and Change Your Life. She's also the host of the upcoming show, Speaking of Work, one of the first productions from her new company, Epiphany Media. 
Isha lives in Mesa, Arizona where she's active in the entrepreneur-building ecosystem. She enjoys spending time with her adult son, Deon, and binging audiobooks.